Purchase Tickets

Reservations are recommended for all performances. Walk-ins are welcome but will be placed on a waiting list for sold out performances. Whether a season ticket holder or not, it is always advisable to make reservations early to avoid being disappointed.
The Belfry Theatre season includes five regular performances each year plus an Apprentice Players production each summer.
Individual Ticket Prices
Musicals - $18.00
Non-Musicals - $15.00
Children 12 and under $12.00 (any show)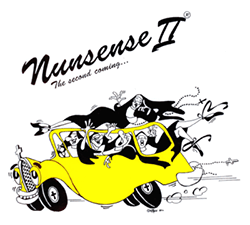 Nunsense II, The Second Coming
Book, Music & Lyrics by Dan Coggin
Directed by Carla Crandall
Performances:
April 6 - April 22
Storyline:
Nunsense II: The Second Coming is the sequel to the international hit Nunsense. Look forward to the return of our Sisters of Hoboken appearing back on stage at Mt. Saint Helen's School for what is billed as a "Thank you, Program" for their supporters. Forced to work round the set of The Mikado (being presented next week by the local music society) they decide to stick to their successful formula and present to you once again a variety show. NUNSENSE II: THE SECOND COMING could easily be subtitled "the rest of the story." The sequel to the hit musical NUNSENSE takes place approximately six weeks after the first "benefit performance." Complete with sequins, roller skates, impressions, gospel, rock 'n roll, and yes, the Franciscan monks please come join us for a riotous time at Mt. Saint Helen's!
Presented by special arrangement with Tams-Witmark Music Library, Inc.

Call 317.773.1085 to pay at the door. Unpaid reservations will be released 10 minutes before show time.
Purchase a 2017-2018 Season Ticket Package and Save!
Season Tickets are available for $65.00 per person for the five regular shows (a savings of $13)

Flex Passes are $80.00 for six passes that can be used in multiples for any show of the regular season (a savings of $10)

or call 317.773.1085

Payment & Policies
Payment at the Door
We now accept credit cards in addition to cash or check.
Online Ticketing
The Vendini online ticketing site will securely process your credit card info for these transactions. Note that your confirmation email will indicate Vendini, NOT the Belfry. All online sales are final. Refunds will NOT be provided if you fail to attend. The Belfry will do its best to coordinate online and phone reservations. Please note that if the Vendini system indicates that the show is sold out, you may wish to try the call in method.
Event Seating
Doors open 45 minutes prior to curtain.
Festival seating (no reserved seats).
No seating after curtain.
Reservations not claimed 10 minutes prior to curtain will be released to standbys.
Handicapped Accommodations
The Belfry will make every effort to accommodate individuals with disabilities. Please indicate when making reservations how many individuals and type of disability. If making reservations online, please be sure to check the appropriate checkbox and enter a comment in the available textbox.
Season Ticket Holders
Membership has its advantages.
Priority given to season ticket holders for sold out performances if reservation made one week prior to opening night performance.
Priority given to season ticket holders for performances within 11 seats of being sold out.
Season ticket holders on waiting list receive priority over non-season ticket holder.
Groups Of Ten Or More
Discounted Price of $12 per person.
Valid for plays only (Not applicable to musicals).
Payment must be received at least one week prior to performance.
If reservation made by phone, mail payment to Belfry Theatre P.O. Box 956 Noblesville, IN 46061.