Belfry Theatre Apprentice Players

The Belfry is proud of its tradition of promoting the performing arts to our youth in an effort to encourage and nurture future generations of thespians. Initiated by founding member Betty Lou Kyle, the Belfry has been producing the Apprentice Players since its pilot season.
Pictured below is a photo of the 1965-1966 Season production of The Emperor's New Clothes by the Belfry Theatre Apprentice Players.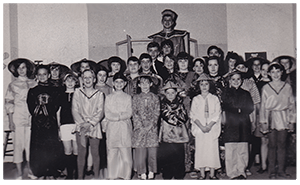 Apprentice Player members are afforded the opportunity to contribute in every aspect of theatre production they desire from acting to working stage crew, lights and sound, costuming, and more.
Apprentice Players Members are divided into two age groups.
In summers of odd numbered years, the Belfry produces plays for those aged 5 to 13 years old.
Even numbered years enlist members from 13 to 20 years old.
Building an Appreciation for the Performing Arts
Many of our aspiring Apprentice Players choose to pursue training or degrees in some aspect of the performing arts. Additionally, the Belfry awards a future star from the area a scholarship funded from the concession sales collected from the year's performances.
This year, director Connie Murello-Todd returns for her 10th production in a row. Ms. Connie, as she is known to her cast, leads literally dozens of kids through the complex choreography of live theatre. No one who witnesses the challenges and results of these shows can deny the value derived from it for both the kids and the community as a whole.
Contact the Belfry for more information on the Apprentice Players