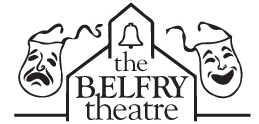 2017-2018 Belfry Theatre Season Schedule

Done to Death
A Mystery-Comedy done in Two Acts
Directed by Nancy Lafferty
Performances
Sept 22 - Oct 8, 2017
Storyline:
Done to Death is a murder mystery comedy written by Fred Carmichael. The plot focuses on five has-been mystery fiction writers who are brought to the mysterious Vulture's Vault to collaborate on and write a new murder mystery TV series. When real murders start to happen, hilarity ensues.
The play is a huge parody of the murder mystery genre as the writers have their own styles that they use in hopes of figuring out the murders. Fast-paced and full of action!!
Presented by special arrangement with SAMUEL FRENCH, INC.


A Christmas Cactus
A Comedy
By Eliot Byerrum
Directed by Elaine Wagner
Performances:
Nov 17 - Dec 3
Storyline:
Christmas Eve is tough for private investigator Cactus O'Riley when two fugitives burst into her office looking for justice and a dead detective named Jake Marley. She also doesn't need her secretary's mother who arrives and decides to stay because she thinks this is the Christmas murder mystery party she has always dreamed of attending.
Christmas turns into a dickens of a holiday for Cactus as she solves mysteries, delivers small miracles and dodges the affections of the Deputy D.A.
Comedy, mystery and romance converge in this charming contemporary Christmas tale where goodwill and justice triumph.
Presented by special arrangement with SAMUEL FRENCH, INC.


One Flew Over the Cuckoo's Nest
By Dale Wasserman
From the novel by Ken Kensey
Directed by Jen Otterman
Performances:
Feb 2, 2018 - Feb 18
Storyline:
One Flew Over The Cuckoo's Nest is a dramatic comedy about hope, friendship and the eternal desire to control one's own destiny. The play examines a charismatic rogue who manipulates the system so he can serve his short sentence in an airy mental institution rather than prison. He learns quickly that this move is a mistake when he meets his match in the head nurse whose tyrannical grip on her patients had been unshakable until McMurphy. He swiftly takes control of the ward accomplishing what the medical personnel have been unable to do for twelve years; coaxing a presumed deaf and dumb Native American to speak and leading the others from submission into independence. For this "infraction", Head Nurse Ratched punishes McMurphy with electric shock treatments. The duel between the two finally culminates when he arranges a rollicking midnight party, complete with girls and liquor. Lest she lose complete control over her ward, Ratched forces him to undergo a frontal lobotomy. But, an unexpected friend helps McMurphy have the final word.
Presented by special arrangement with SAMUEL FRENCH, INC.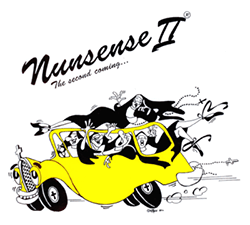 Nunsense II, The Second Coming
Book, Music & Lyrics by Dan Coggin
Directed by Carla Crandall
Performances:
April 6 - April 22
Storyline:
Nunsense II: The Second Coming is the sequel to the international hit Nunsense. Look forward to the return of our Sisters of Hoboken appearing back on stage at Mt. Saint Helen's School for what is billed as a "Thank you, Program" for their supporters. Forced to work round the set of The Mikado (being presented next week by the local music society) they decide to stick to their successful formula and present to you once again a variety show. NUNSENSE II: THE SECOND COMING could easily be subtitled "the rest of the story." The sequel to the hit musical NUNSENSE takes place approximately six weeks after the first "benefit performance." Complete with sequins, roller skates, impressions, gospel, rock 'n roll, and yes, the Franciscan monks please come join us for a riotous time at Mt. Saint Helen's!
Presented by special arrangement with Tams-Witmark Music Library, Inc.



Brighton Beach Memoirs
By Neil Simon
Directed by James H. Williams
Performances:
June 1 - June 17
Storyline:
Fifteen-year old Eugene Jerome is desperately trying to uncover life's mysteries, but his family keeps hiding the clues. Even so, he manages to keep his priorities – baseball and girls – firmly in order throughout Neil Simon's hilarious play of his Broadway hit about growing up in Brooklyn during the late 1930's.
Life is definitely never dull with seven people living under the same roof. Dad works two jobs to make ends meet, older brother Stanley is eager to dispense sage advice, and Aunt Blanche tries to cope as a single parent.
Brighton Beach Memoirs is a wonderful, semi-autobiographical comedy with heart, wit and hysterical insights into family life and growing up-just a little off-center.
This production is rated PG-13 and may not be suitable for younger audiences.
Presented by special arrangement with SAMUEL FRENCH, INC.



Disney's Camp Rock: The Musical
Based on the hit Disney Chanel Movies
Directed by James H. Williams
Performances:
July 27 - Aug 5
Storyline:
Disney's Camp Rock: The Musical, a combination of The Disney Channels "Camp Rock" and "Camp Rock 2: The Final Jam" (starring teen idols, Demi Lovato and the Jonas Brothers) will fire up the stage with over a dozen songs, including "This Is Me," "Can't Back Down," "It's On" and "We Rock."
A classic story of rivalry and power, Disney's Camp Rock: The Musical opens with Mitchie and her friends arriving at Camp Rock, ready to spend another summer jamming out and having the time of their lives. But the new, flashy Camp Star across the lake now threatens Camp Rock's very existence. To keep the doors open, Mitchie steps up, rallies her fellow Camp Rockers and gets them into top shape for the ultimate showdown!
Disney's Camp Rock: The Musical features a large ensemble cast with many featured roles. Whether your students are singers, actors, dancers or triple threats, everyone has an opportunity to shine in this high-energy show!
Presented by special arrangement with Music Theatre International