Cast Announcement for The Man Who Came to Dinner
The Belfry Theatre and director Eric Matters are proud to announce the cast of THE MAN WHO CAME TO DINNER, opening November 24 and continuing through Dec. 3 at Noblesville First United Methodist Church. Thank you to those who auditioned!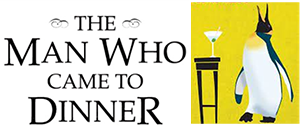 SHERIDAN WHITESIDE… Robert C. Boston Jr.
MAGGIE CUTLER… Amanda Falcone
BERT JEFFERSON… Eric Dixon
MR. STANLEY… Tom Smith
MRS. STANLEY… Kim O'Mara
JUNE STANLEY… Anabella Lazarides
RICHARD STANLEY/ METZ… Jericho Franke
HARRIET STANLEY/ MRS. MCCUTCHEON… Janet Borcherding
LORRAINE SHELDON… Sarah Eberheart
DR. BRADLY/ OFFICER… Gene Burnette
MISS. PREEN… Chloe Vann
JOHN… Omar El Jordi
SARAH… Grace Mckinnies
BANJO/ DEPUTY/ WESTCOTT… Danial Dale Clymer
BEVERLY CARLTON/ SANDY/ CONVICT/ RADIOMAN… Drake Walker Smith
MRS. DEXTER/ CONVICT… Melissa Reid
Tickets for this show will be available soon! Check back here for the latest updates.