Cast announced for Willy Wonka Jr.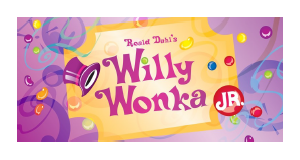 Hamilton County Theatre Guild's Belfry Theatre announces the cast and crew for the summer youth production of "Willy Wonka Jr." musical, July 27-30, directed by Nancy Lafferty at The Ivy Tech Auditorium in Noblesville.
Here's the cast:
Willy Wonka: Jay Potts, Indianapolis; and Gracelynn Hyman, Fishers
Charlie: Greta Schaefer, Fishers
Grandpa Joe: Ehren Knerr, Noblesville
Mr. Bucket: Ben Ohning, Noblesville
Mrs. Bucket: Addie McMillan, Noblesville
Mr. Salt: Drake Lockwood, Noblesville
Veruca: Avareigh Dillon, Indianapolis
Mike Teavee: Blake Valentine, Noblesville
Ms. Teavee: Morgan Trowbridge, Noblesville
Violet: Olivia Cook, Fishers
Mrs. Beauregarde: Claire Shonkwiler, Westfield
Augustus Gloop: Kyle Gibbons, Fishers
Mrs. Gloop: Ellie Seago, Noblesville
Phineous Trout: Mia Gordon, Noblesville
Grandpa George: Nolan Campbell, Noblesville
Grandma Georgina: Estia Wallace, Noblesville
Grandma Josephina: Bucky Ohning, Noblesville
Matilda: Ellie Long, Indianapolis
James: Micaiah Brown, Noblesville
ENSEMBLE
Brantley Zieles, Westfield; Kai Schaefer, Fishers; Brooke Cropper, Noblesville; Oliver Maudlin, Noblesville; Camryn Oukada, Noblesville; Adalyn Dillon, Indianapolis; Quenton Coston, Noblesville; Coraline Coston, Noblesville; Mia Anderson, Westfield; Kai Korolyov, Noblesville; Lily Thomas, Fishers; Emma Morgan, Noblesville; Anna Morgan, Noblesville; Nolan Fisher, Fortville; Ethan Fisher, Fortville; Lexianne Duvall, Noblesville; McKenna Koehler, Noblesville; Liliana Santos, Noblesville; Cora Foster, Noblesville; Noelle Jarniac, Indianapolis; Kennedy Kelm, Noblesville; Catie Steele, Noblesville; Katelynn King, Fishers; Vincent Lomellin, Noblesville; Mackey Brose, Westfield; Donnie Wedmore, Cicero; Chloe Oukada, Noblesville; Avery Kite, Noblesville; Kaley Kite, Noblesville; Aria Lockwood, Noblesville; Emmalin Fisher, Fortville; Jayna Wallace, Noblesville; Marlee Callahan, Noblesville; Emily Greenlee, Noblesville;
Elena Shonkwiler, Westfield; Charlotte Jamriska, Fishers; Sadie Ohning, Noblesville; Charley Center, Indianapolis; Austin Mitchell, Noblesville; and Dallas Mitchell, Noblesville.
Here's the crew:
Director: Nancy Lafferty, McCordsville
Assistant Director/Stage Manager: Kristin Buchanan-Schwanke, Indianapolis
Student Assistant Director: Lily Trueblood, Indianapolis
Stage Manager: Kim O'Mara, Indianapolis
Student Stage Manager, Kellyn Johnson, Fishers
Choreographer: Katelyn King, Fishers
Music Director: Denise Johnson, Indianapolis
Set Designer; Stephen Matters, Beech Grove.
Set Construction: Ian Marshall-Fisher, Indianapolis; Kevin Callahan, Noblesville; Matthew Knerr, Noblesville; Matt Steele, Noblesville; Tony Schafer, Fishers; Tony Gordon, Noblesville; Alec Gordon, Noblesville; Matt Fisher, Fortville; and Lily Trueblood and Katelyn King.
Costumes, Norma Floyd, Noblesville; Gail Sanders, Indianapolis; Amy Kienitz, Fishers; Phyllis Hyman, Fishers; Kellie Callahan, Fishers; Melissa Coston, Noblesville; Marcie Hankins, McCordsville.
Props and Set Decoration: Mychal Prochnow, Brownsburg.
Tech Director: Beck Buchanan-Schwanke, Indianapolis
Lighting Designer: Eric Matters, New Palestine
Lighting Operators: Aaron Matthew, Fishers, and Cameron Dowling, Anderson
Sound Designer: Geoff Lynch, Noblesville
Sound Operators: Lukas Bradford, Fishers; Drew Benedetto, Noblesville.
Stage Crew: Audrey McGovern, Fishers; Grace Weaver, Noblesville
Willy Wonka Jr. Official Sponsors