Cast announced for 'Rehearsal for Murder'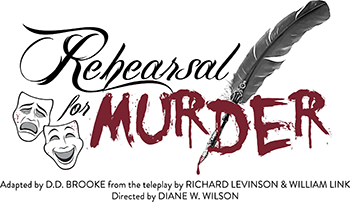 Hamilton County Theatre Guild's Belfry Theatre announces the cast of "Rehearsal for Murder," a murder mystery play in the first show of the 2022-23 season for the theater, beginning its 58th season in the fall.
Here's the cast, announced by director Diane W. Wilson, in order of appearance:
Alex Dennison -- Kelly Keller of Fishers
Ernestine -- Molly Kraus of Fishers
Sally Bean -- Anna E Blower of Anderson
Monica Welles -- Ameetha Widdershins of Fishers
Loretta -- Cindy Duncan of Carmel
Lloyd Andrews -- Alex Dantin of Westfield
Bella Lamb -- Kim O'Mara of Indianapolis
Karen Daniels -- Olivia Carrier of Noblesville
David Mathews -- Gideon Roark of Yorktown
Leo Gibbs -- Eric Bowman of Noblesville
Male Police Officer -- Mason Cordell Hardiman of Indianapolis
Female Police Officer -- Tanya Keller of Fishers
Man in the Auditorium -- Chris Taylor of Frankfort, IN
Mr. Santoro -- Evan Zatkulak of Indianapolis
Mac -- Richard Wilson, Carmel
The show, adapted by D.D. Brooke from the teleplay by Richard Levinson and William Link. The play is directed by Diane W. Wilson of Carmel and stage managed by Fran Knapp of Noblesville.
Synopsis: A year following the untimely death of a famous onscreen actress and an up-and-coming Broadway star, a famous playwright (and the former fiancé of the star) assembles all those who last interacted with the actress under the pretense of reading excerpts from a new play he is writing. Even though the actress's death was ruled as a suicide, the playwright believes otherwise, and he plans to prove it and trap a killer as the scenes from his new play come to life.
The Years: 1980 (opening night of the comedy Chamber Music by Alex Dennison, the after party, and the death of Monica Welles) & 1981 (exactly one year after the opening and Monica's death)
The Settings: A Broadway Stage & Monica Wells' Study
Performances: Sept. 23-Oct. 2, with showtimes at 8 p.m. Fridays and Saturday and 2 p.m. Saturdays and Sundays at The Ivy Tech Auditorium, 300 N. 17th St., Noblesville.
Tickets will go on sale soon