Cast, crew announced for 'The Game's Afoot' holiday production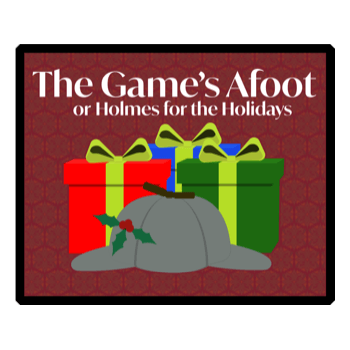 Hamilton County Theatre Guild proudly announces the cast and crew for "The Game's Afoot" or "Holmes for the Holidays." the first production in The Belfry Theatre's 2020-21 season.
The holiday whodunit by Ken Ludwig is directed by Eric Matters of Fishers.
Here's the cast:
William Gillette/ Sherlock Holmes - R.C. Thorne, Fishers
Felix Geisel/ Moriarty - Mike Sosnowski, Indianapolis
Simon Bright/ Count Zerlinksy - Gideon Roark, Yorktown
Inspector Harriet Goring - Ann Ellerbrook, Indianapolis
Martha Gillette - Jenn Kaufmann, Indianapolis
Madge Geisel/ Marian - Laura Givens, Noblesville
Aggie Wheeler/ Alice - Lizzie Schultz, Noblesville
Daria Chase - Tonya Rave, Indianapolis
Here's the crew:
Director - Eric Matters, Fishers
Assistant director - Diane Wilson, Carmel
Producer - Ka'Lena Cuevas, Fishers
Stage manager - James H. Williams, Fishers
Light designer - Brian Coon, Westfield
Light operator - Kara Jacobs, Indianapolis
Sound designer - Geoff Lynch, Noblesville
Sound operator - Zach Buzan, Fortville
Set designer - Eric Matters, Fishers
Set construction - Ted Jacobs, Indianapolis
Scenic design - ML Lich, Indianapolis
Costumes - Addie Taylor, Indianapolis
The show's synopsis: Hailed as " Murderously Funny" by Broadway World, this quirky, clever mystery centers on 1930s Broadway star William Gillette, admired around the world for his leading role as Sherlock Holmes. Gillette invites fellow cast members to his Connecticut castle for a weekend of holiday festivities, but when one of the guests is stabbed to death, the fun in this isolated house of tricks and mirrors quickly turns dangerous. Gillette must assume the persona of his beloved Holmes in order to track down the killer. Join us for the non-stop twists, turns, and wild hilarity in this mystery thriller that promises to give you a wonderful holiday gift: everything you love about live theater.
The production runs Nov. 27 and 27, Dec.4-6 and 11-13. Curtain times are 8 p.m. Fridays and Saturadys and 2 p.m. Sundays.
Tickets are $17 for adults; $14 for ages 12 and younger and 65 and older.