Auditions Announced for HONK!Jr.: The Musical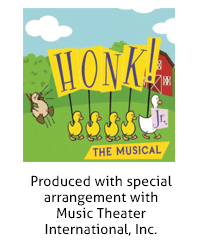 Hamilton County Theatre Guild announces open auditions for The Belfry Theatre Apprentice Players summer youth production, "HONK! Jr.: The Musical".
Auditions: 3 p.m. to 5 p.m. Sunday, June 2; and 6 p.m. to 8 p.m. Monday, June 3, at The Belfry Theatre, 10690 Greenfield Ave., Noblesville.
Seeking youth ages 5-13, who will sing a 16-bar song and present a two-minute monologue, poem or story (no songs or monologues from the show, please). Accompaniment provided; please bring piano sheet music. Or a CD or pre-recorded track on your cell phone are allowed. Auditions will take place on the theater stage in front of other children auditioning. Those auditioning will be asked to learn a short dance number and perform it with a small group. Those auditioning should bring tap shoes if they have them.
Please bring head shot to attach to audition form.
Production: There will be a total eight shows over two weekends, including Saturday and Sunday matinees, July 26-Aug. 4. Show times are 8 p.m. Fridays and Saturdays, July 26 and 27 and Aug. 2 and 4; and 2 p.m. Saturdays and Sundays, July 27 and 28 and Aug. 3 and 4. Call will be at least 90 minutes prior to each show time. Location: The Belfry Theatre, 10690 Greenfield Ave., Noblesville.
This Apprentice Players summer youth program is free of charge. There are no fees. However, cast members will be asked to pay for their own costumes, whether purchased or created by The Belfry Theatre's costumer, who will determine costumes, including shoes, for all cast. Cast members are also asked to provide their own makeup once makeup requirements/guidelines are established.
Rehearsals will be 6:30 pm.. to 8:30 p.m. Monday through Thursday evenings, beginning Monday, June 10, with rehearsals running later during tech week, which is the week of July 28. A full rehearsal schedule will be available when rehearsals begin.
Parents will be expected to sign up to volunteer during rehearsals and during the run of the show, to help backstage, with costumes and makeup, security, lobby decorating, set construction and painting, public appearances, and wherever needed. For rehearsals and performances, parents are asked to bring their child to the stage door, and must come into the building to pick up their child after rehearsals and performances for safety. There will be a check-in and check-out sheet daily.
Any and all expected absences for rehearsals should be noted on the audition form. If the director believes a potential cast member would miss too many rehearsals, director would not cast the child in the production. No absences are allowed during the run of the show.
Dance experience is not required, however, those auditioning will be asked to include their tap, jazz, ballet and other dance experience on audition forms.
The Belfry is accepting applications for backstage crew members, ages 12 and older, for "HONK! Jr.: The Musical"
Public appearances: Cast and crew members make public appearances, including participating with The Belfry Theatre during the Noblesville Fourth of July Parade on July 4 (parade is at 2:30 p.m., with lineup beginning at 1:30 p.m., running until 2:30 p.m.), and performing and volunteering at the kids games and Belfry booth at the Noblesville Fireworks Festival that same evening, at 4 p.m. to 10 p.m., with fireworks, at Forest Park (note change in venue this year). There could also be an afternoon appearance at the Hamilton County 4-H Fair tentatively on July 20.
Directed by
James H. Williams
, the show is presented by special arrangement with Music Theatre International.
Synopsis: HONK! Jr.: The Musical is a musical adaptation of the Hans Christian Andersen story The Ugly Duckling, incorporating a message of tolerance. The book and lyrics are by Anthony Drewe and music is by George Stiles. The musical is set in the countryside and features Ugly, a cygnet that is mistaken as an ugly duckling upon falling into his mother's nest and is rejected by everyone but Ida, a sly tomcat who only befriends him out of hunger, and several other barnyard characters.
This Belfry Theatre Apprentice Players production is not part of The Belfry Theatre's regular season, which means the show is not included with season tickets. Tickets are $20 for adults, $16 for ages 12 and younger and ages 65 and older. There are no free passes for parents, families, during the eight-show run. For reservations, call (317) 773-1085 or visit
https://thebelfrytheatre.com/