Auditions for 'Red, White and Tuna' comedy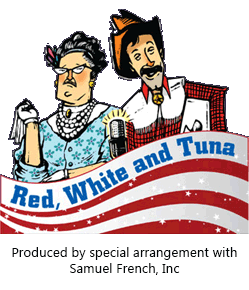 Auditions have been announced for The Belfry Theatre's spring production of "Red, White and Tuna."
Auditions are 7:30 p.m. Monday, April 15, and Tuesday, April 16, at The Belfry Theatre, in Noblesville.
Seeking: 2 - 4 adults, men and women. Play has 10 male and 10 female Texan characters. All actors will play multiple roles and will play both sexes.Those cast will need to be agile and able to make lightning-fast costume changes, some without assistance.
Ability to do Texas/southern accent a plus but not required at auditions.
Production: Opens the weekend after Memorial Day so some rehearsals Memorial Day/Race weekend will occur. Show dates are May 31-June 16, 8 p.m. May 31, June 1, 7, 8, 14, 15 and 2 p.m. June 9 and 16, at The Belfry Theatre, 10690 Greenfield Ave., Noblesville.
Show synopsis:The much anticipated third installment in the Tuna trilogy ("Greater Tuna" was produced at the Belfry in the 1900/1991 season and "A Tuna Christmas" was produced at the Belfry in the 2000/2001 season) takes the audience through another satirical ride into the hearts and minds of the polyester-clad citizens of Texas' third smallest town. (However, audiences should know that they need not to have seen the other Tuna productions to enjoy this one.)
Along with Tuna's perennial favorite characters, some new Tuna denizens burst into the 4th of July Tuna High School Class Reunion. This sets the stage for a show full of fireworks and fun from the land where the Lion's Club is too liberal and Patsy Cline never dies in another side-splitting Tuna spoof of life in rural America.
Produced with special arrangements by Samuel French Inc.
Written by Jaston Williams, Ed Howard and Joe Sears.
For more information or to receive the rehearsal schedule, contact director Ron Richards at 317-773-0433.