Auditions for How The Other Half Loves - August 6th & 7th
Hamilton County Theatre Guild's The Belfry Theatre announces auditions for HOW THE OTHER HALF LOVES at Arts for Lawrence's Theatre at the Fort. Directed by Nicole Amsler.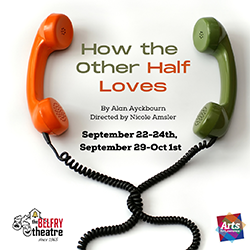 AUDITION INFORMATION:
Date and Time:
Sunday, August 6th, 4-6 pm
Monday, August 7th, 7-9 pm
Location:
Art for Lawrence's Theater at the Fort
8920 Otis Ave, Lawrence, IN 46216
If you are unable to make it to either audition date, please send director Nicole Amsler a 2-3 minute scene from any script (use a reading partner for other characters). Send your audition video to Nicole at nicole.r.amsler@gmail.com before August 5th, 2023.
How to Prepare: Those auditioning should be familiar with the play concept (https://en.wikipedia.org/wiki/How_the_Other_Half_Loves) and prepared to read excerpts from the script. Plan to arrive early to fill out an audition form. Please bring a headshot if you have one and a theatrical resume. Additionally, bring your calendar and provide a complete list of conflicts through October 1st, 2023.
The read-through will occur on August 9th. Rehearsals will begin August 14th and run weekdays until the show opens on September 22nd.
PERFORMANCE DATES:
The show runs September 22-Oct 1st at Arts for Lawrence's Theatre at the Fort.
There are six shows, September 22nd and 23rd, 28th and 29th at 7:30 pm, as well as Sunday matinees (September 24 and Oct 1st) at 2 pm
If you have any questions, please contact the director, Nicole Amsler, at nicole.r.amsler@gmail.com.
SHOW SYNOPSIS:
The play has a cast of six: Frank and Fiona Foster, Bob and Teresa Phillips, and William and Mary Featherstone. The well-to-do Frank and Fiona have a polite and emotionally distant relationship, while Fiona is in a secret affair with Frank's employee Bob, whose marriage with Teresa is very stormy; Teresa feels neglected by him, and her suspicions are heightened by ghost phone calls. The contrast between the nature of the Fosters' and Phillips' relationships is heightened by the visual difference in their respective living spaces and furnishings, both of which co-exist in the same space on the stage. Asked where they have been, both Bob and Fiona lie to their spouses that they have been comforting, respectively, William and Mary Featherstone, each of whom is alleged to believe their spouse to be having an affair.
Click here to download an Audition/Contact Form