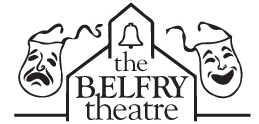 The Belfry Theatre is a friendly, welcoming place where those who wish to express their acting or other creative skills meet those who enjoy and appreciate quality productions of comedies, musicals, and dramas. Our goal is to attract and develop good actors and production personnel and showcase their talents in exceptional productions that will enrich and entertain our prospective audiences.


The Belfry Theatre is happy to announce the return of our "Dinner and a Show" Ticket package with Matteo's Ristorante Italiano in Noblesville!
The "Dinner and a Show" package is available for all three of the Saturday night performances of "The Foreigner" – March 25, April 1 & 8.
Tickets are $52 per person and include one ticket to the show plus a three-course dinner* at Matteo's Ristorante from an exclusive menu designed just for Belfry patrons!
Click below to purchase your tickets, or you can call 317.773.1085.

After you have purchased your tickets, please make a reservation at Matteo's through OpenTable or by phone at 317.774.9771. When making your reservation please indicate that you purchased the Belfry Dinner and a Show package. Also, tell your server when you arrive so you receive the package menu. Otherwise, you may be charged from the normal dinner menu.
*Drinks are not included in the package price.

We recommend a reservation time between 5:30 and 6:00pm to ensure that you'll have the time to enjoy your dinner and then travel to the Belfry (10690 Greenfield Ave.) before the play's 8:00 curtain. PG-13: The Foreigner is rated PG-13. Some thematic elements and language might not be suitable for younger children.
(Please remember, unclaimed reservations are released to those on the waiting list 10 minutes before curtain.)