Cast Announced for Marvin's Room
Hamilton County Theatre Guild announces the cast of Marvin's Room at The Belfry Theatre in Noblesville.
Marvin's Room by Scott McPherson is on stage March 20 - April 5, 2020.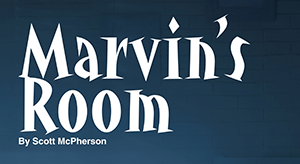 Here's the cast:
Bessie: Julie Brinson Dutcher of Plainfield
Lee: Courtney Gray of Noblesville
Ruth: Jean Adams of Indianapolis
Hank: Logan Rayl of Noblesville
Charlie: Lennon Hofer of Lapel
Dr. Wally: Paul M. Haskin of Indianapolis
Dr. Charlotte: Veronique Duprey of Lawrence
Retirement Home Director: Becky Cavin of Westfield
Bob/Marvin: Tim Moore of Indianapolis
Here's the production team:
Director: Brent Ashley Wooldridge of Plainfield
Producers: Caity Withers of Indianapolis and Bill Miller of Lapel
Assistant Director: Diane Wilson of Carmel
Stage Manager: Lauren Kloke of Indianapolis
Props: Pam Jensen of Zionsville
Costumer: Linda Findley Grow of McCordsville
Set Design/Decoration: Ron Roessler of Indianapolis
Lighting Design: Bill Miller of Lapel
Sound Design: James H. Williams of Fishers
Show synopsis: Bessie, a strong-willed woman, takes care of her bedridden father and eccentric Aunt Ruth. After Bessie is diagnosed with leukemia, her estranged sister, Lee, comes to visit and to be tested as a possible bone marrow donor for her sister. The reunion between the sisters is initially uncomfortable, aggravated by the difficult behavior of Lee's two sons. The two women eventually confront their shortcomings as sisters, reach out to each, and arrive at an understanding about the importance of family. It may be considered a drama but Marvin's Room is both funny and touching in equal measure.
Show times are 8 p.m. March 20, 21, 27, 28, April 3 and 4; and 2 p.m. March 29 and April 5 at The Belfry Theatre, 10690 Greenfield Ave., Noblesville.
Tickets are $17 for adults, $14 ages 12 and younger and ages 65 and older. For reservations, call 317-773-1085 or go online at https://www.thebelfrytheatre.com/