The Belfry's Scholarship Program

Each year, in accordance with our mission to create interest and participation in community theater, the Belfry Theatre provides a scholarship to a deserving high school senior interested in the performing arts. Funds for the scholarship are derived from concession sales from the performances of that season. While there is no stated amount, in recent years it has exceeded $1,000 and has been as high as $1,500.
A scholarship selection committee creates an application and distributes it to all Hamilton County High Schools to develop the pool of qualified applicants.
Hamilton County students interested in applying will need to pick up an audition form at their school's guidance office.
The Scholarship Committee's Selection Criteria Includes
√ Senior in a Hamilton County High School
√ Scholastic Achievement
√ Pursuing a major or minor course of study in the performing arts (theater, music, etc)
√ Demonstrated participation in drama or music while in high school
√ Character and Leadership Achievements
√ Motivation and goals

2017 Scholarship Recipient

Maddie Hayward
Maddie is an 18 year-old graduating with academic honors from Noblesville High School.
She served as vice-president of the International Thespians Society and President of the National Honor Society. In 2016 she received the STO All-Star award in regional Thespian competition.
Throughout her middle and high school years she played leading roles in school musicals and theatrical productions in addition to church and community theatre performances.
An accomplished singer, Maddie was a three year member of the Noblesville High School Varsity Show Choir preceded by a year in Sensations – the NHS Junior Varsity Show Choir. She was also active on the Speech Team and in Drama Club.
In preparation for a career in music Maddie studied piano and voice. As a junior she served as an elementary school choir assistant followed by cadet teaching the choir at Noblesville East Middle School her senior year.
She has been accepted and is excited to be entering Indiana Wesleyan University in 2017.

2016 Scholarship Recipient

Haley Patricia Glickman
Haley is an 18-year-old graduating with academic honors from Carmel High School. Theatre has been her passion since she was a young child. She is an International Honor Thespian.
Through all four of her Carmel High School years she has participated in theater classes, acted in 11 productions, teched two productions and directed a one act play. In addition she has performed in Footlite Musicals and Civic Theatre productions. Elected by her peers, she has served this year as President of Carmel's Rising Stars where she has been responsible for fundraising campaigns and celebrations for the group. Her theatre instructor indicates she has a wide range of talent, is creative, intelligent, a leader and a good problem solver.
Haley has been a member of the Ambassador Show Choir for two years. In addition she has participated in community service as an active Girl Scout since she was in kindergarten. In the words of her troop leader, "whether she is balancing theatre or show choir, both strenuous, her discipline allows her to find time to perform well academically as well as in her activities."
Last summer she received a scholarship from the American Musical and Dramatic Academy to take a summer intensive acting course in New York City.
As of early April 2016 she had been accepted into Marymount Manhattan College for acting and is waitlisted at The Juilliard School in New York City.

2015 Scholarship Recipients
This season the committee found that two seniors were equally deserving and as such, both will receive a scholarship.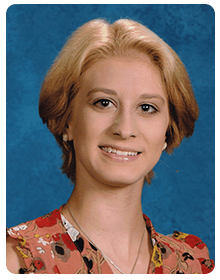 Kaitlyn Hamke
Kaitlyn is a graduate of Hamilton Southeastern. She plans to attend Ball State University to pursue a degree in theatre arts with a minor in legal studies. She was declared a Speech Team state finalist as a result of her talent in character development. Kaitlyn's passion for the performing arts was expressed by her heavy involvement in Thespians and the countless hours spent in Drama Club both as an actress and in production support. She served as student director for three of Hamilton Southeastern's theatrical productions.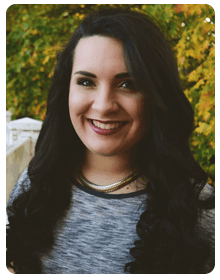 Lily Schwab
Lily is a graduate of Noblesville High School. She plans to further her studies at Ball State University with a major in theatre and music. Lily is an accomplished singer and actress having held leading roles in three high school musicals as well as appearances in eight community theatre productions. She has received numerous awards as a vocalist in state solo and Show Choir competitions in addition to representing Noblesville High School for two years in National Speech & Debate Association competitions.

Prior Belfry Theatre Scholarship Winners
| | | |
| --- | --- | --- |
| Year | Student | School |
| 2017 | Maddie Hayward | Noblesville |
| 2016 | Haley Glickman | Carmel |
| 2015 | Lily Schwab | Noblesville |
| 2015 | Kaitlyn Hamke | Hamilton Southeastern |
| 2014 | Corin James Fritz | |
| 2013 | Anna Clare Shinness | |
| 2012 | Molly Grooms | Noblesville |
| 2011 | John McClean | Gerin |
| 2010 | Lauren Bower | |
| 2009 | Alexander D. Smith | Noblesville |
| 2008 | Sarah Buck | Noblesville |
| 2007 | Meg Herrick | |
| 2006 | Erika Hanes | |
| 2005 | Megan Herrick | Noblesville |
| 2004 | Lindsay Petersen | Carmel |
| 2003 | Ryan Stultz | Noblesville |
| 2002 | Sean Davis | Carmel |
| 2001 | Leigh Ann Forester | Noblesville |
| 2000 | Zachary Frank | Westfield |
| 1999 | Jessica Hendicks | Noblesville |
| 1998 | Brad Braun | Noblesville |
| 1997 | Taylor Giacoma | Noblesville |
| 1996 | Lindsay Goldberg | Noblesville |
| 1995 | Ryan Metzsker | Noblesville |
| 1994 | Aaron Pelsue | Noblesville |
| 1993 | Noreen Nykios | Noblesville |
| 1992 | Kathleen Otterman | Noblesville |
| 1991 | Tamara Lockwood | Hamilton Heights |
| 1990 | Lisa Harney | Hamilton Southeastern |
| 1989 | Krisiene Demoss | Carmel |
| 1987 | Najwa Loh | Hamilton Southeastern |